U.S. SEC Filings
Complete end-to-end automation.
RRS AUTO GENERATES SUBMISSION-READY
CUSTOMIZED SEC FILINGS IN XML AND HTML.
PROVEN
For over 15 years, RRS has helped some of the most complex financial institutions file their SEC Filings.
RELIABLE
The Regulatory Reporting System has successfully submitted '000s of SEC Filings.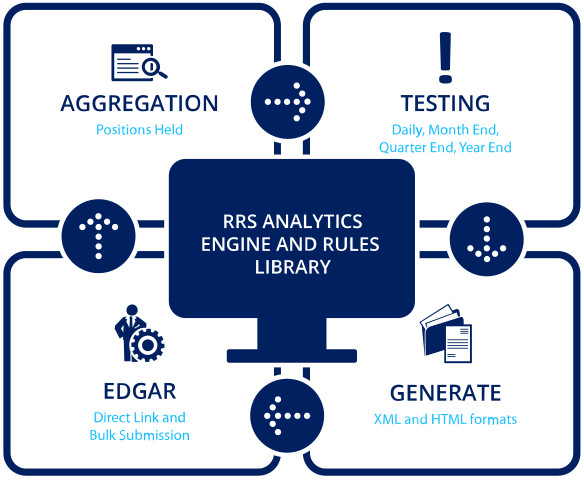 EFFICIENT
Submission-ready XML and HTML documents and direct bulk
load to EDGAR.
COMPLETE
13D/G, 13F and 13H coverage.
The only solution that can submit over 500 13Gs
in less than 30 minutes.
SCHEDULE 13D
Holding more than 5% of a class of voting equity securities, and any increase or decrease of 1%.
File within in 10 days.
SCHEDULE G
Exceeding 5% as of year- end or 10% as of any month-end.
File within 45 days after end of year / 10 days at month end after exceeding 10%
FORM 13F
Investment discretion over $100 million in assets or more in 13F securities as listed on the 13F Official List
File within 45 days after end of quarter
INSIDERS
10% beneficial owners under Section 16, Form 3, Form 4 and Form 5
Form 3: 10 days after becoming insider / IPO day of pricing
Form 4: close of 2nd business day
Form 5: 45 days fiscal year end
RRS is the most reliable and efficient way to manage your U.S. SEC
Shareholding Disclosure obligations.