REGULATORY REPORTING SYSTEM
The most comprehensive solution for Global Shareholding Disclosures.
WHAT A PURPOSE BUILT SOLUTION LOOKS LIKE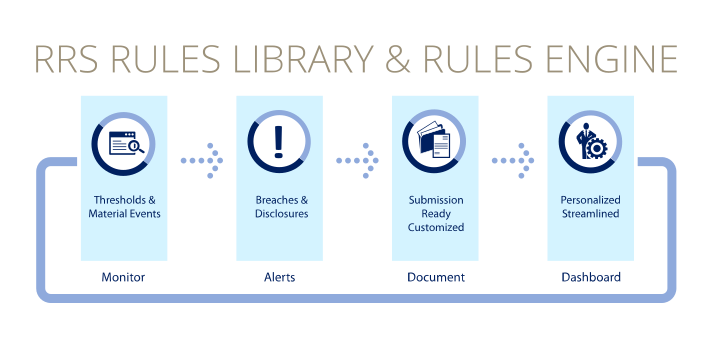 Delivering end-to-end support to confidently respond to global
shareholding disclosure obligations in over 100 jurisdictions.
RRS's Superior Technology Supports nearly $10T in Aggregated Client AUMs and is Underpinned by Expert Regulatory Intelligence
RULES LIBRARY
Global Shareholding Disclosure rules for over 100 jurisdictions, including: large positions, short positions, enhanced takeovers, foreign investments and sensitive sectors.
TAKEOVER DATA
Consolidated Takeover data
covering 21 countries.
ISSUERS THRESHOLDS
Monitoring for issuer-specific disclosures.
REGULATORY DATA
Regulator specific data: 13F Official List, ESMA Sovereign Debt, ESMA FIRDS Reference Data, etc.
OVER 100 JURISDICTIONS
AMERICAS Argentina, Bahamas, Bermuda, Brazil, Canada, Cayman Islands, Chile, Colombia, Curacao, Ecuador, Jamaica, Mexico, Panama, Peru, United States, Uruguay, Venezuela, Virgin Islands (British) EUROPE Austria, Belgium, Bulgaria, Croatia, Cyprus, Czech Republic, Denmark, Estonia, European Union, Finland, France, Germany, Gibraltar, Greece, Guernsey, Hungary, Iceland, Ireland, Isle of Man, Italy, Jersey, Latvia, Liechtenstein, Lithuania, Luxembourg, Malta, Monaco, Netherlands, Norway, Poland, Portugal, Romania, Russia, Serbia, Slovakia, Slovenia, Spain, Sweden, Switzerland, Turkey, Ukraine, United Kingdom ASIA PACIFIC Australia, Bangladesh, China, Hong Kong, India, Indonesia, Japan, Kazakhstan, Malaysia, Marshall Islands, New Zealand, Pakistan, Papua New Guinea, Philippines, Singapore, South Korea, Sri Lanka, Taiwan, Thailand, Vietnam MIDDLE EAST & AFRICA Bahrain, Botswana, Dubai (UAE), Egypt, Ghana, Israel, Jordan, Kenya, Kuwait, Lebanon, Mauritius, Morocco, Namibia, Nigeria, Oman, Qatar, Saudi Arabia, South Africa, Tunisia, Uganda, Zambia, Zimbabwe
"Solutions Atlantic has a well-established understanding of the finer detail and complexities of shareholder disclosure reporting obligations. We are pleased to have been working with SA and their clients since 2013 to complement their Regulatory Reporting System with our Rulefinder Shareholding Disclosure service which provides the leading legal analysis of global shareholder reporting obligations."
Marc-Henri Chamay Chief Executive, aosphere, LLP
PRE-TRADE ASSISTANCE
"What if" capability designed to proactively reduce Shareholding Disclosure reporting.
AUDIT SERVICES
Expert review of your shareholding disclosure workflow and procedures to identify critical vulnerabilities, mitigate risks and improve your process.